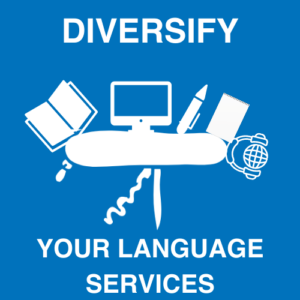 FREE 1 Hour Instructor Led Webinar
Presenter: John Milan (a previous President of CATI)
Date & Time: December 7th, 2020 from 6:00pm-7:00pm EST
Sign up today: https://castillolanguageservices.com/webinars/diversify-and-expand-your-language-services-20201207
COURSE DESCRIPTION:
Even before the pandemic & shutdown, language services were subject to market and technological forces shaping the way we operate. Our current reality has only added to the list. How can you successfully provide services 5 to 10 years down the road? Diversification, multiple revenue streams, business planning, financial planning Human in the Loop – understand your own value proposition: where are you in the "loop"? Learn/understand available technologies; what they can/cannot do and why.
About the Instructor
John M. Milan, M.Sc., CT, is an ATA-certified translator, economist, consultant, writer, and lecturer on the business and economics of language services, with over 25 years of experience in multiple countries. For 10 years, he was an adjunct professor of economics in São Paulo, Brazil. He is currently Treasurer of ATA and chair of ATA's Finance and Audit Committee and Strategy Committee. He has been involved in the Carolina Association of Translators and Interpreters (CATI, an ATA chapter) since 2005, spending eight years on its board of directors, serving as president from 2013–2016. He earned a Master of Applied Microeconomics from the Ohio State University, where he was a foreign language fellow, and bachelor degrees in International Political Economy and Spanish from Indiana University – Bloomington. Contact: john@milanlanguageservices.com .
Sign up today!! https://castillolanguageservices.com/webinars/diversify-and-expand-your-language-services-20201207