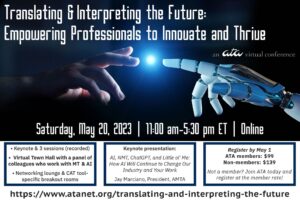 Translating & Interpreting the Future: Empowering Professionals to Innovate and Thrive
An ATA One-day Conference – Saturday, May 20, 2023
This ATA virtual conference on MT & AI will feature presentations from 4 industry- and thought-leading presenters who will share their experience, knowledge and insight into the present landscape, and future horizons for translation and interpreting. Our keynote presenter is Jay Marciano, who is a well-known conference speaker on MT.
You can earn 5 ATA Continuing Education points for this conference, and all sessions will be recorded for attendees to listen to and review afterwards.
The conference will conclude with a Virtual Town Hall on MT, MTPE, AI and HT. Share your experience and hear how your ATA colleagues are leveraging technological advances, innovating, and thriving! There are also 3 separate networking sessions! You can consult the full program on the ATA website in the "Events" section.
Registration is open now. Be sure to register by May 1 to take advantage of early bird rates. For more information, email virtualconference@atanet.org.