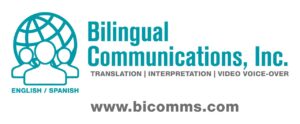 Jackie Metivier was born, raised and educated in Puebla, Mexico. She completed her bachelor's degree in Mass Communications at the Universidad Intercontinental in Mexico City and moved to North Carolina in 1988.
Mrs. Metivier founded Bilingual Communications in Cary, North Carolina in 1991. So, it is celebrating 30-years of service in 2021. The company has always focused on providing English to Spanish translation, interpretation, and Spanish video voice-over services. Because they specialize in a single language pair, they are able to concentrate their resources and provide in-depth support for their clients in the cultures they know best.
Mrs. Metivier values her longstanding relationships with clients, such as Duke Energy, BB&T now Truist, and Golden Corral Corporation, among others. The company translates approximately 150,000 words per month.
Her team of experienced professionals provide Spanish conference interpreters for Governor Roy Cooper's COVID-19 conferences.
Mrs. Metivier received her certification from the American Translator's Association (ATA) as a translator from English into Spanish in 1993. She is classified as A1. Master Certified Spanish<>English Court Interpreter for obtaining a score of 80% or higher on all sections of the North Carolina Court Interpreter Certification Examination (NCCICE), and served as President of the Carolina Association of Translators and Interpreters (CATI) from 2003-2006. Affiliations – Better Business Bureau, Hispanic Chamber of Commerce, and NC Society of Hispanic Professionals.
Jackeline Metivier
(919) 380-7066
E-Mail: Jackie@bicomms.com
Website: www.bicomms.com
Social Media:
https://www.linkedin.com/in/jackie-metivier-72193210/
https://www.facebook.com/Bicomms/
1500 Piney Plains Road Suite 203, Cary, NC 27518
Languages Provided: English / Spanish