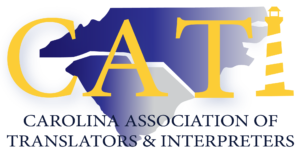 CATI will hold our annual conference on Saturday, October 1st, 2022
at Meredith College in Raleigh, NC.
We are accepting proposals for speakers until July 31.
Speakers will be able to attend the rest of the conference for free.
We welcome proposals in the areas of translation, interpreting, and topics related to the business of translation and interpreting (T&I). Proposals are required to be relevant to T&I professionals, allowing participants to advance their knowledge and keep abreast of recent trends in the world of translation, interpreting, and language services. Individual paper proposals and panel proposals (3-4 speakers) are being considered. Panel proposals should be submitted as a single document with the title of the panel, followed by the abstracts. Each presentation should be planned for a 50-minute presentation followed by a ten-minute Q&A.
Please submit your proposals with the following information:
Your name
Contact Information – Email and Phone Number
Title of your presentation
Focus area: Translation / Interpreting / Business / General
Abstract (100 words maximum). The abstract should provide clear objectives for what attendees will learn and how they will be able to apply this knowledge.
Language specific?
The learning objectives for your presentation. Please include at least three (3). This will allow CATI to request CE credits.
Your bio (max. 100 words)
Equipment required (if applicable)
Email proposals to CATIadmin@CATIweb.org . 
Speaker benefits:
Gain recognition as an industry leader in the Carolinas.
Contribute to the advancement of the profession in the region and network with professionals.
There is no professional fee to present but we will offer you an opportunity to attend the rest of the conference for free.
We will contact you by August 15th to let you know if your proposal has been accepted.
Full conference details will be available in August. 
Fees to Attend:
CATI Members – Early Bird $90 / Regular Price $110 / At the Door $120
Non-CATI Members – Early Bird $110 / Regular Price $130 / At the Door $140
Student – Early Bird $35 / Regular Price $45 / At the door $55 (proof of student status required)
Meredith College Faculty – Early Bird $55 / Regular Price $70 / At the Door $80
Early Bird prices end on September 15.
Regular prices end on September 29.
About CATI
The Carolina Association of Translators and Interpreters, CATI, is the regional chapter of the American Translators Association (ATA). It is the voice of translators and interpreters in the regions of North and South Carolina. Members enjoy professional development opportunities, workshops and free webinars. The most popular program is our Learning the Ropes (LTR) mentoring program. Our members enjoy the wide range of activities that provide opportunities for networking such as socials, and of course the Annual Conference. CATI serves as an advocate for translators and interpreters in the Carolinas.
For additional information about CATI, please go to our website: CATIweb.org .