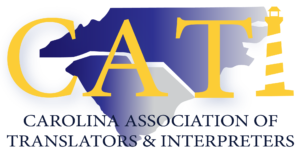 "Working Globally, Networking Locally"
Don't miss this opportunity to increase your visibility with the growing community of translators and
interpreters as an exhibitor at the 35th annual conference of the Carolina Association of Translators and
Interpreters (CATI).
CATI represents more than 150 interpreters and translators across the Carolinas, including individuals who
work with law enforcement, medical facilities, schools, state and federal judicial systems, media, real estate,
and other businesses. This year's conference will be held at the College of Charleston Department of Hispanic Studies in Charleston, SC, on Saturday,
April 1, 2023. Space for exhibitors is limited, and at the last conference they sold quickly. Please commit by
March 15, 2023 for your priority exhibit space.
Exhibitor Details
This option includes all of the following benefits:
• An exhibit table – location to be announced, near the meeting rooms and coffee breaks. Each exhibitor is
entitled to one table with two chairs.
• Free advertising – Each exhibitor is entitled to a link on the CATI website conference page through close of
the conference.
Fee: $150 for one person or $200 for two people. 
Exhibit Setup: Saturday, April 1, 2023, 7:00 am to 8:00 am
Exhibit Hours: All day Saturday, April 1, 2023 (8am-5pm)
CATI shall not be required to provide security of any nature whatsoever during exhibition or non-exhibition hours.
CATI is not responsible for and from any loss or damage that may be sustained to any of our exhibit materials or equipment.
CATI is committed to making our conference accessible to all. Please indicate your requirements on your registration if you have any need for special accommodation or assistance.