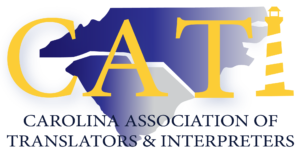 CATI will host our 35th Annual Conference
on April 1, 2023
" Working Globally, Networking Locally"
at the College of Charleston
Department of Hispanic Studies
66 George Street, Charleston, SC

Our Keynote –
We are excited to announce Anna Huberman will be present our keynote address:
Lost in Translation: The US and Latin American Court Systems
Because court systems are different, it can be a challenge to translate or interpret court processes or terminology.
This presentation will focus on a comparison of the US judicial system with the Latin American and other civil law
systems to identify equivalencies, parallels, and differences. We will also contrast common v. civil law
traditions; adversarial system v. inquisitorial system; trial by one's peers v. trial to a judge.
Learning Objectives:
1. Understand the language challenges the court systems in different countries present and analyze how to overcome them.
2. Compare court process and trials by system.
3. Identify the different levels of courts and judges.
Anna was born and raised in the Midwest but moved with her parents to Argentina as a teenager where she finished
high school and obtained a JD degree from the Universidad de Buenos Aires. As an adult, she moved back to the
United States with her husband and children. Her love of language and law came together in her 15-year  career as a court interpreter
with the Maricopa County Superior Court. In 2012, a new justice court precinct was created in the West Valley. Drawing on her knowledge of
the law and language and her 15 years of experience in the courts in Maricopa County, Anna decided to run for the
position. She was re-elected to her third term in 2020. Judge Huberman is the current Presiding Judge of the
Maricopa County Justice Courts. She is also the past Arizona Justice of the Peace of the Year. Throughout her
time as a judge, Anna has been on and chaired numerous Justice Court and Supreme Court committees, workgroups
and commissions. She is also involved in training. She has presented as faculty in New Judge Orientation, the Judicial
Conference, the Justice of the Peace Conference, and other conferences and trainings. Judge Huberman also serves as
a mentor judge. Most recently, she was member of the Task Force on Jury Data, Collections and Procedure and the
COVID-19 Continuity of Court Operations During a Public Health Emergency Workgroup (known as the Plan B
Workgroup). Chief Justice Robert Brutinel appointed Judge Huberman to the Arizona Judicial Council as of July 1,
2022.
_________________________________________________________________
Conference Sponsors:
Bronze Sponsor

___________________________________________________________________________________________________________
Full Sessions details will be posted by Feb. 14, 2023.
Be a conference Sponsor – Click Here
Be an Exhibitor at the conference – Click Here
Fees to Attend:
Early Bird (EB) Prices through March 1, 2023. Regular (Reg) prices good through March 23. Walk-Ins (WI) March 24-April 1, 2023.
CATI Members – EB $100/ Reg $120 / WI $140
Non-CATI members – EB $125 / Reg $140 / WI $160
Student – EB $35 / Reg $45 / WI $55
College of Charleston Faculty – EB and Reg $50 / WI $100
Hotels –
CATI has secured blocks of rooms at two different hotels near each other.  These blocks of rooms are first come first serve and will end on March 1st.
The hotels are less than 15 minutes from the college. Closer hotels are very expensive. We have also included a list of other hotels if needed or preferred.
CATI 2023 Conference Hotel Options
ATA Exam  –
CATI will host the ATA exam on Sunday, April 2, 2023 in Charleston, SC at 10:00 am in-person.
Please see ATA for any and all further information about the exam:
https://www.atanet.org/certification/exam-schedule-and-registration/
About CATI
The Carolina Association of Translators and Interpreters, CATI, is the regional chapter of the American Translators Association (ATA). It is the voice of translators and interpreters in the regions of North and South Carolina. Members enjoy professional development opportunities, workshops and free webinars. The most popular program is our Learning the Ropes (LTR) mentoring program. Our members enjoy the wide range of activities that provide opportunities for networking such as socials, and of course the Annual Conference. CATI serves as an advocate for translators and interpreters in the Carolinas.